Key Fob Entry Systems For Businesses and Homes In California
What Is a Key Fob Entry System?
You're probably familiar with key fobs if you own a car that uses one with its locking system. But there are many more uses for these ingenious devices, including for home and commercial security. Fobs are just one part of the entire range of access control products and systems. How can you use them for your office or home?
Because programmable key fob entry systems use both a key fob and a key fob reader, they use RFID technology, a highly secure form of entry/access control. Since the early 1980s, people have been using residential and commercial key fob door entry systems because they're inexpensive, reliable, and safe. If you want to make your home or office location more secure, a Locksmith On Wheels fob access control installation can do the trick, fast and easy.
Key fob access control is an ideal upgrade to a traditional "physical key" system. With old keys, you always had to be worried about who might have made an extra copy. The whole situation, with physical keys, represented a risk and potential hassle if you, or an employee of a business, lost a key. When extra keys got loose, whoever had them could get into your home or office whenever you were away.
The main advantage of a Locksmith On Wheels commercial or residential key fob entry system is that you'll never have to lose sleep over "lost keys" again. You'll be able to manage every key fob in the system, track any of them remotely, and set specific access limits to your home or office without ever having to give anyone an old-style metal key.
What Types of Keyless Access Systems Are There?
There are multiple variations of keyless access systems for both residential and commercial use. In just the past decade, technology has advanced quite a lot, which means you have dozens of choices when shopping for better home or office security systems.
Locksmith On Wheels installs and services any of the keyless security products on the market, including the following, which represent the most common keyless access control devices:
RFID Proximity Locks: These systems use an RFID reader installed near the entryway and read either an access key-card or key fob. Both cards and fobs can be encoded with a vast amount of data for multi-layer security in office buildings or homes.

PIN/Keypad Readers: PIN readers have been around a while and are a favorite for many small offices and restaurants. To gain entry, the user must enter a PIN on the device's keypad. The owner of the property can update and change PINs whenever needed to keep security as high as possible.

Biometric Devices: High-tech and ultra-secure, biometric devices are used in lots of public, government, and correctional facilities. They operate by identifying each entrant's facial features, fingerprints, or irises.

Video Card Devices: Many large corporations and military installations use standard key-card systems combined with live-stream, high-resolution video to view the entryways whenever someone attempts to gain access.

Wireless Door Locking Systems: So-called wireless systems utilize either a key fob or a smartphone app. That way, residents or employees can simply use their phones to gain access to a door that's been fitted with a smart-lock device.
How Do These Systems Work?
Modern key fob reader systems use RFID, which is an electromagnetic-enabled device that reads data stored in a key fob or key card. Radio waves are at the heart of the technology, similar in many ways to the barcode readers you use to scan items in a grocery store.
But in this case, the device scans your fob or key card and reads the pertinent information. That's why all you need to do is wave the fob or key card in front of the device when you want to enter.
What Are the Benefits of Key Fob Entry Systems?
In general, key fob systems offer the best of convenience for employees or residents, along with a high level of security and the prevention of unwanted entry by unauthorized people. The advantages of these kinds of systems include the following:
Lost fobs can be replaced quickly and the old ones deactivated

When employees quit or are terminated, a business owner can instantly deactivate their key fob or key card

Fob systems are cost-effective for homes or businesses of any size

The systems are virtually maintenance-free

Owners can reconfigure levels of access for every fob or key card at any time

Each fob contains data unique to the person carrying it, which means much better security than traditional keys which were exactly the same for everyone

Fobs and similar lock/security systems are simple to use, so you'll never have to offer special training or classes to employees, or worry that children (for residential fobs) won't be able to use the keys or cards

Fobs are small, which offers convenience for anyone who prefers to carry them in a pocket, purse, or wallet

Fobs and key cards are highly versatile. They can be used for any kind of entry point, like garages, gates, doors, and more

Owners can track the history of usage, which is an excellent way to keep tabs on unusual comings and goings in businesses and even homes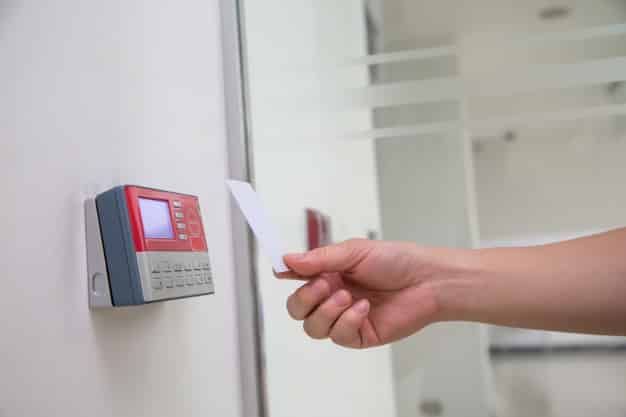 Want To Upgrade an Existing Fob Entry System?
Thanks to the wonders of modern technology and the fact that Locksmith On Wheels is always adding the latest upgrades to all lock and security systems we offer, it's easy to upgrade any fob or key card system in a number of ways.
In fact, many homeowners and apartment managers like to enhance the convenience of fob systems by adding smartphone apps that let people use either a fob, card, or just their phone to gain entrance.
Likewise, entry systems can be upgraded to allow wireless access via a tablet, smart watch, or other non-phone device.
Most systems can be integrated with your choice of surveillance technology, like video cameras, to add yet another layer of safety for homes or offices.
Overall, upgrades include the ability to scale up commercial systems for growing companies, add enhanced security features for homeowners or business owners, and combine several kinds of security features like cameras, cards, and audio.
Why Should You Choose Locksmith On Wheels?
There are plenty of reasons to call Locksmith On Wheels when you need go give your residential or commercial security a boost. That's because we not only have the experience to install, repair, and service key fob entry systems of all kinds, but our team of technicians can handle any locksmith need you have.
Our crews arrive on time and ready to work, every time. Plus, we serve a large part of the California area where we're headquartered, including communities like Albany, Berkeley, Danville, Livermore, San Ramon, San Francisco, Pleasanton, Walnut Creek, and surrounding regions. Locksmith On Wheels
And, there's never a need to be concerned if you're not quite sure what kind of locksmith services you need, whether they include commercial key fob door entry systems for the office, a residential key fob entry system for a private residence, or anything else related to locks and locksmith services. Simply let us know what your concerns are about security and our professional team can help you select a system the perfectly suits your home or business location.
When you team up with Locksmith On Wheels, you get the very best: the best technicians, the best guarantee, the best work, the best parts and products, and a company that responds quickly to your call, any time of the day or night, 365 days a year. So, if you live or operate a business in CA, give us a call and consider the job done.
Over 100 Real 5 Star Reviews from Real Customers
"Great and prompt service! Kyle was very professional and tech savvy. Got my car up and running in less than 10mins. Very good experience."
"I work for a property management company and every time we need assistance, they respond very quickly. Javier's customer service is exceptional. Our tenants, and ourselves, are always happy and satisfied and that's why we continue business with Locksmith on Wheels :)"
"I don't like to leave reviews! Only doing this because of the terrific service I received with "Locksmith on Wheels." I called to install a new lock on my garage door that leads to my backyard and when Ruben came out he was very empathetic when I told him why I was installing new locks. I appreciate people who still care about other people. Highly recommend them!"
"I need replace three door knobs, Ruben gave itemized quote when we talked then came on time with good service and keep the same price, I definitely will recommend Ruben and use his service again."