Professional Locksmith in Dublin, CA
Best Dublin Locksmith with Local Store
Unlike other competitors, we are local and have a physical locksmith store in Dublin, CA that serves customers from the Tri-Valley areas. We have over 1000 different keys in our inventory as well as a showroom with locks for your home or business. Our licensed locksmiths are employees, not subcontractors, and that makes a huge difference when it comes to customer service. Anyone that has ever hired a subcontractor can tell you that. Whether you need a key copy or you're looking to upgrade your front door with a smart lock, we're here to assist and get the job done.
Our locksmith services in Dublin, CA
Our locksmiths are all licenced and go through a lengthy intense training period before they serve customers. On a day-to-day basis, we offer a wide array of services for our corporate clients as well as our local residential clients.
Over 100 Real 5 Star Reviews from Real Customers
"Great and prompt service! Kyle was very professional and tech savvy. Got my car up and running in less than 10mins. Very good experience."
"I work for a property management company and every time we need assistance, they respond very quickly. Javier's customer service is exceptional. Our tenants, and ourselves, are always happy and satisfied and that's why we continue business with Locksmith on Wheels :)"
"I don't like to leave reviews! Only doing this because of the terrific service I received with "Locksmith on Wheels." I called to install a new lock on my garage door that leads to my backyard and when Ruben came out he was very empathetic when I told him why I was installing new locks. I appreciate people who still care about other people. Highly recommend them!"
"I need replace three door knobs, Ruben gave itemized quote when we talked then came on time with good service and keep the same price, I definitely will recommend Ruben and use his service again."
What makes us better than other Dublin locksmith?
You need to feel comfortable with the locksmith company you hire, afterall you wouldn't want to give anyone keys to your home or business. First and foremost, Locksmith on Wheels is a name you can trust!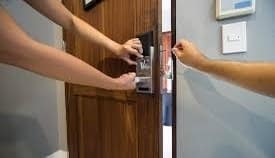 Exemplary Customer Service
With a team of in-house locksmith employees we can maintain a high level of customer service that subcontractors can't even dream of. Fast response time, attention to details and transparency is key. But don't just take our word for it – over a Hundred 5 star reviews are proof of it.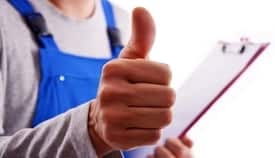 Highest Standards
We carry top name brands that we trust made with quality materials and craftsmanship. Our installations are meticulous and our attention to detail ensures you have a professional installation every time.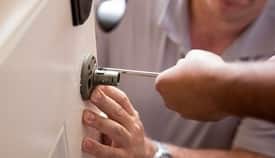 Professional Team
Every locksmith we hire goes through a series of training as well as shadowing our seasoned locksmith technicians before going out to jobs solo. Training is like no other and the learning never stops in this ever evolving industry either.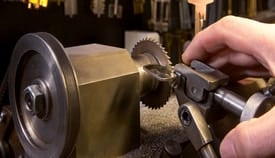 Creative Solutions
Sometimes you need a solution to a unique problem. "When there is a will there's a way" is our motto! We will brainstorm together with you to find the best solution that meets your requirements.
News updates
We keep our blog updated with
locksmith related topics and helpful
Frequently Asked
Questions
How much do locksmith services cost in Dublin CA?
All our services are competitively priced with your budget in mind. If you want a specific price on a particular service, or want to know more about our general pricing, feel free to give us a call anytime. We're always happy to give quotes on whatever service you're interested in. That's why we're the locksmith Dublin CA trusts.
Are you an emergency locksmith?
Emergencies are just part of what we do as a full-service locksmith company. We do both emergency and non-emergency locksmith services of all kinds. If you're looking for a locksmith in Dublin CA that answers emergency calls rapidly and does other services by appointment, you'll be happy with our way of doing business.
What kinds of locksmith services do you offer?
We offer a full menu of residential, commercial (office), and automotive locksmith services, both on an emergency and non-emergency basis. In addition to getting people into homes, cars, and offices when they're locked out, we repair and install every kind of lock imaginable on doors, vehicles, and security safes. We are truly the locksmith Dublin CA and other Tri-Valley residents can turn to in any key, fob or lock-related situation, emergency or not.
Do you operate a local store here in Dublin?
Yes, but also we cover the entire Tri-Valley area and can travel to your location if need be. We have mobile locksmith teams that can reach Fremont, Hayward, Pleasanton, Livermore and many other places in California fast. Give us a call if you want more specific information about our comprehensive service area and whether we cover your community.
What is your service area?
Of course. We're conveniently located just north of the Dublin Sports Grounds. Our official address is 6743 Dublin Blvd #30, Dublin, CA, 94568. We also have lightning fast mobile locksmith teams covering many other communities in Tri-Valley and central California including the cities of Fremont, Hayward and San Jose.