Parks And Golf Course In San Ramon, CA
San Ramon offers its residents and visitors a number of fantastic leisure opportunities within the local area. There's a wide range of outdoor activities to suit all ages and make the most of the wonderful Californian climate, including amazing parks and impressive golf courses.
This guide will help you explore some of our favorites…
Canyon Lakes Golf Course
Golf enthusiasts will love the impressive Canyon Lakes, an 18 hole course designed by world-renowned golf course architect, the late Ted Robinson.
Canyon Lakes sits at an incredible vantage point overlooking the beautiful San Ramon Valley and offers incredible views of the soaring peaks of Mount Diablo. The scenery is part of what makes this course so popular; it provides the perfect backdrop for a challenging game of golf.
There's much more than just golf on offer here. The complex boasts a fine dining restaurant open to both members and non-members all year round. Their sophisticated menu features sumptuous cuisine to suit all palettes, including hand-pressed Angus Braveheart beef burgers, as well as a large selection of vegan options.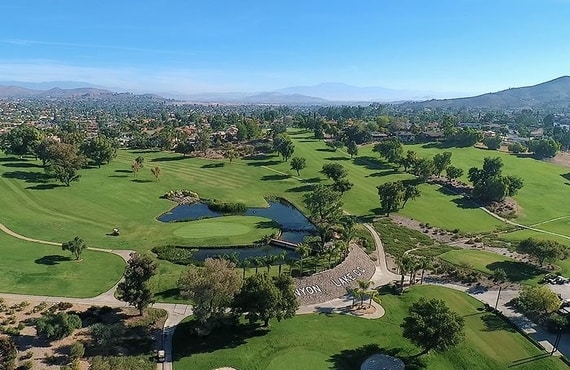 Canyon Lakes also has its own in-house brewery which features a 10 barrel brewing system of limited release local beers. The bar and taproom is the perfect place to kick back after a long day on the course while taking in the views and sampling the brewery's latest creations.
The golf course has recently changed ownership and invested in major improvements to its course, as well as extensive renovations to the impressive clubhouse.
The course offers annual and monthly memberships, as well as no commitment daily-fee play, which is bookable through their website or mobile app.
Athan Downs Park
For something a little more family-friendly, there's San Ramon's Athan Downs Park, named after city founder and mayor, Byron Athan. This popular community park has plenty of activities and facilities to keep the young, and the young at heart, entertained.
Athan Downs boasts wide expanses of rolling grassy fields that are used for soccer, baseball, softball and various sports. There's a network of trails that are popular with runners, cyclists, and walkers, and provide a great opportunity to reconnect with nature.
To top off the sporting options there's a sand volleyball court, plus tennis lovers can use one of the 4 lighted tennis courts.
One of the main attractions of the park is the recently refurbished all-abilities playground which has been designed to promote inclusive play for all children. There's an extensive ramp system set up to cater to those using mobility devices, plus a whole host of sensory activities that rival even the most hi-tech of children's parks, including an OmniSpin® spinner and a Sway Fun® glider.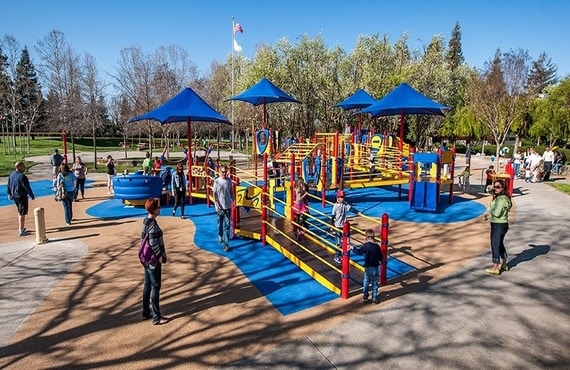 The park also provides beautiful picnic spots that are suitable for small impromptu picnics as well as large family gatherings, which you can reserve online. The park prides itself on being accessible to all, with ample parking, disabled access, and clean restroom facilities.
Bellingham Square
Back in the heart of San Ramon, you'll find Bellingham Square, a popular meeting point and recreation area for the whole community. Its central location ensures the park is always bustling with life, and it provides a perfect place for families and neighbors to join together.
Bellingham Square is set over 4 acres and features a huge grassy area for outdoor activities such as running, soccer, softball, baseball and children's games. There's also a beach volleyball pit and a horseshoe pit for small and larger games.
You'll find pristine picnic areas perfect for families, featuring barbecues for cookouts and a shaded gazebo for small community events.
The park also has a playground with swings plus an adventure play area to entertain the little ones. There are ample water fountains provided for visitors along with clean family-friendly restrooms.
This is a relaxed community park with enough facilities to enjoy a full morning or afternoon here. It's the perfect place to meet other San Ramon residents and families and enjoy the fresh air and beautiful scenery of the area.
The Best Parks and Golf Courses in San Ramon
This is just a small selection of parks and leisure activities available in San Ramon. The city is blessed with many open spaces in which to enjoy the fabulous weather, stay fit and active and make the most of the great outdoors.