Top Places To Visit In Dublin, CA For Kids
Interestingly, Dublin received its name because of the large number of Irish immigrants who settled there back in the 1800s. Since then the city has evolved into a culturally diverse city while keeping true to its roots.
If you're ever in California and are looking for fun places to go with the little ones, then add Dublin to your list of places to visit. This picturesque suburban city is part of the East Bay and Tri-Valley regions of Alameda County and offers a number of kid-friendly attractions and amenities suitable for the whole family.
Located roughly 35 miles east of downtown San Francisco, 23 miles east of downtown Oakland, and 31 miles north of downtown San Jose, the city is central to a number of fun things to do and see.
Emerald Glen Park: Emerald Glen Recreation and Aquatic Complex
Emerald Glen Park, conveniently situated at Tassajara Road and Central Parkway, sits atop 40 acres of pristine, lush, community parkland. As large as the park already is, there are currently plans to expand it in phases so that it will, in its completed stage, reach 48.2 acres.
Emerald Glen Park is open 24-hours a day, 7 days a week. The park features the Emerald Glen Recreation and Aquatic Complex that has two pools, a waterslide tower, a splash zone, and a community room.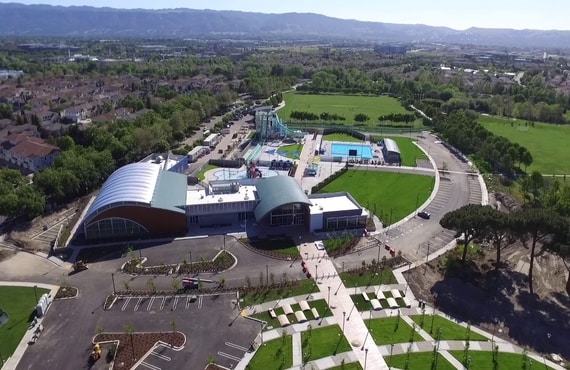 There are baseball, softball, soccer and cricket fields, and Bocce ball courts. The park also has large group picnic areas that are held by reservation only. There's a lighted skateboard park, tennis and basketball courts, a playground, rose garden, small picnic areas, trail access, and art installation.
With so many activities to choose from, it's easy to spend an entire day here with your little ones. Dogs are also permitted in the park as long as they are kept on a leash.
Dublin, CA Wave Waterpark: Aquatic Center
The Dublin Wave Waterpark: Aquatic Center is Dublin's newest and most exciting community facility. More precisely, The Wave is a 31,000 square foot, state-of-the-art aquatics facility that is anchored by a natatorium, or indoor pool, outdoor sports pool, waterslide tower, and splash zone complete with water play features. The Wave Waterpark is only open during the summer season.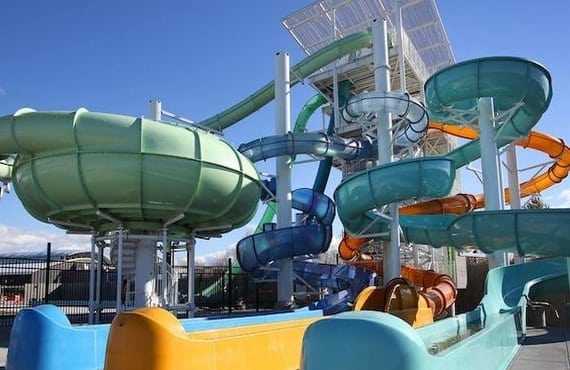 The Slide Tower section of the water park is great for more experienced riders who will love the thrill of the twisting and turning that takes place down the park's six exciting slides. Meanwhile, the Splash Zone is great for younger children that will have a better time splashing around. The Splash Zone features a zero-depth entry and an interactive children's play area. Finally, the outdoor Sports Pool features eight racing lanes that are 7-feet deep, three warm-up lanes that are 4-feet deep, and a digital scoreboard.
Beat the California heat with a visit to this fun and exciting water park.
Historic Green Store: Dublin Heritage Park & Museums
This 10-acre park features preserved buildings from the 1850s. The majestic grounds of the Dublin Heritage Park & Museum tell the story of the city's early settlers. Located on the grounds is the 1856 Murray Schoolhouse and Kolb House Museums. The Heritage Park also includes the 1859 St. Raymond Church, the Kolb Sunday School Barn, and the Dublin Pioneer Cemetery.
The park is a lovely place to visit with your family. Not only is it steeped in history, but it also provides a picturesque place for your family to relax and enjoy nature. There are lots of scenic spots to take photos as well as a large variety of things to see and to do. The park's museum will give you a glimpse into Dublin's rich history. Likewise, the old barn will enchant every member of your family with its period farming equipment and crafting area. Finally, the park offers a wealth of scenic and serene picnic areas.
The Best of Dublin
Stop searching for activities to keep your kids occupied this summer. A visit to Dublin, CA will not only keep your kids excited with a wealth of fun activities, but it will also immerse them in the rich history of a town first inhabited by Irish immigrants and their families. Make Dublin a place you and your family return to time and again.