Stress is something that you'll deal with for much of your life. The last thing you need is to get locked out of your car. If you've experienced this before, you know how frustrating it can be. This adds more stress to your life. It keeps you from fulfilling important responsibilities.
If you lost your keys or locked them in the car, replacing them offers a solution to this problem. However, it can depend on the make, model, and year. In this guide, you will learn about what is a key fob and why it is called a key fob. A professional locksmith can make this transition as smooth and easy as possible with expert advice and tools.
What is a Key Fob?
The key fob is a small electronic device that conveniently fits in the palm of your hand. It's often located on your keychain or as its own entity. It provides you access to an object, such as a car, computer, mobile device, or another type of device.
The remote access allows you to lock and unlock the device. Remote key fobs have become so popular that they're used for biometric keyless entry fobs and smart cards. They are considered a type of security token that only communicates with that particular device. This feature is often referred to as a hardware token and provides a one-factor, on-device authentication to the system or device.
The primary role of the key fob is to operate the entry system of your vehicle. It can perform some of the following tasks, such as:
activates the alarm system
automatic window control
arms and disarms vehicle security system
starts the ignition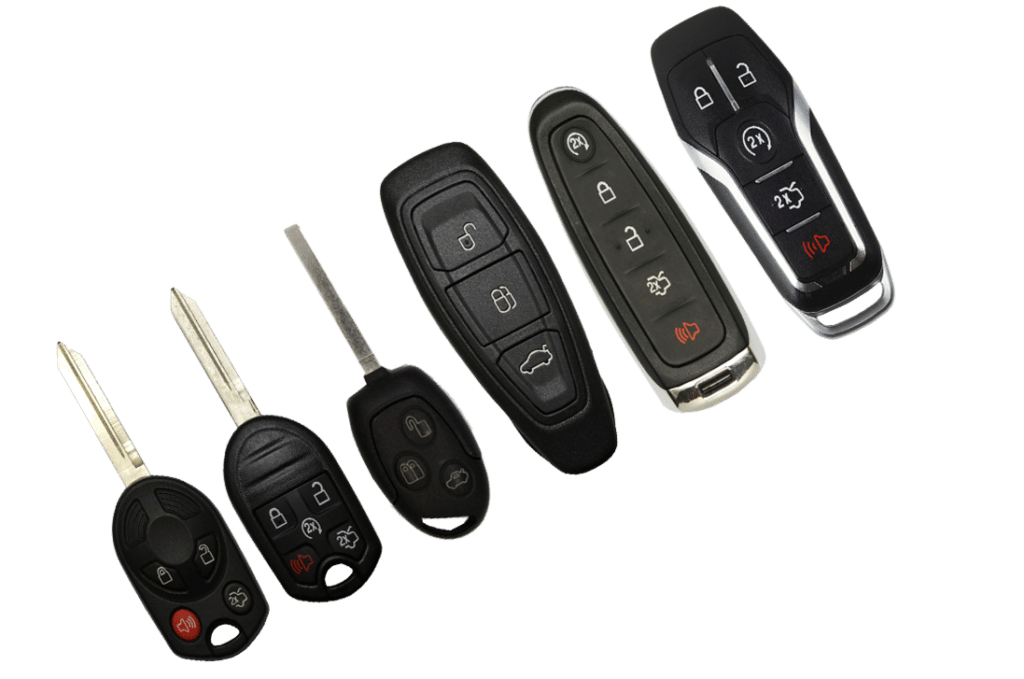 How Do Key Fobs Work?
It contains an RFID chip and antenna that uses radio frequencies to communicate with the receiver unit on the device. The key fob also comes with an RFID tag, which stores information about your vehicle.
A key fob is either self-programmed or operated by a professional. Self-programming is easier than it sounds, while it can be costly to have a professional program. Either way, it saves you time and money on costly security mistakes and incidents.
Advantages Of Using A Key Fob
There are many advantages to investing in a keyless remote system. Since car theft and security concerns are on the rise in the U.S., you should use a key fob if you want to protect your car against theft. In the event of a break-in or carjacking, the keys can get lost or cause unauthorized access. You can quickly deactivate the remote key for the car when it's misplaced.
Even a lost key fob makes it easy to unlock your vehicle with the electrical lock system. This is important for those with disabilities who have trouble turning a key into a lock. RFID key fobs have increased in popularity because they're versatile and can be used for a wide variety of commands. You can use yours to run the engine or to open a certain door on your vehicle.
Other Uses For Key Fobs
The key fob is used for more than just operating your vehicle system. One common use is offering secure access systems to commercial properties and businesses. This way, your employees can enter the building and other access points with a badge or another form of ID. This eliminates the need for a physical key.
You can also use a key fob to control access to a commercial or industrial plant. This is ideal for industries ranging from government facilities to hospitals. These types of companies need to protect their devices and software, which contain sensitive information.
Even homeowners can benefit from the use of a keyless remote system. They can provide access to your garage — especially if your neighborhood is prone to burglaries. The compact size makes it convenient for everyday use while the security features keep your family safe.
I Lost My Key Fob, What Do I Do?
Keeping your key fob is critical since it's unique to the make, model, and year of your vehicle. No one else can enter your vehicle and drive it except for you. That's because each key fob comes with its own code. This is beneficial for security reasons, but not helpful every time you have a replacement.
Your keyless remote won't work without the use of the fob. It's not helpful when you have to get to an important meeting or pick up your kids from soccer practice. In the event that your key fob is lost, you will need to contact a professional for key fob replacement services. This gives you the peace of mind you need so that you can head back on the road.
Locksmith Wheels offers professional locksmith services in Dublin, CA. We serve businesses and homeowners in the Tri-Valley areas. We have access to over 1,000 keys in our inventory as well as a designated showroom that has locks for your business or home.
Our professionally trained staff are employees of our company that deliver high-quality service and customer service. When you work with Locksmith Wheels, you will get elite business. Nothing but the best technicians, services, parts, and tools. Our company responds to any request around the clock and throughout the year. If you own a home or run a business in California, contact us to complete the job.