Best Areas To Buy A Home In Danville, CA
Over the last decade, the move to suburban neighborhoods has been on a steady rise. As individuals and family alike look to leave the hustle and bustle of city life behind them, local suburbs provide ease of access to high paying city jobs, while offering a lower cost of living, more space, less congestion, and a family-friendly atmosphere to put down roots.
Danville, CA ranks among those suburbs trending in popularity among California residents, bringing to the table a range of amenities and attractions that make an increasingly attractive area to buy a home.
This guide will help you explore some of the top communities in Danville to buy a home and put down roots. But first, let's delve deeper into what makes Danville so great.
Danville benefits
Small Town Living, Big City Amenities
This community enjoys the best of both worlds. Having a small-town feel, with a quaint, slower-paced atmosphere, yet close enough to all the amenities of the big city. From fine dining to casual outings and more, the area has it all.
Tight-knit community
The culturally diverse and forward-thinking community of Danville is both welcoming and inviting. The area is known for friendly faces and people who look out for each other.
Family Friendly
The Danville community is known for its family-friendly atmosphere, with most of the area's residents having children between the ages of 5-7. This means your children will have a safe place to play and plenty of playmates around. Not to mention, the area has great local schools and boasts a crime rate well below the US national average.
Outdoor Recreation
Danville features a large number of recreational facilities and parks available for local area residents to enjoy. Notable attractions include historic tours, community parks, dog parks, sports fields, biking, and hiking trails, and Mount Diablo.
Top communities in Danville
Magee Ranch
Dating back to 1991, Magee Ranch has evolved into one of the most sought out communities in Danville. The diverse community features a broad range of homes showcasing a range of styles and architecture. Average home prices range from $645,000 to $2.7 million situated on quarter-acre lots.
Crow Canyon Country Club & Estates
Crow Canyon Country Club & Estates is a gated and prestigious country club community in Danville. The community is marked by breathtaking views, impressive landscape and open spaces situated along the community's upscale golf course and country club grounds. Views include those of luscious green rolling hills, beautiful sunsets, the Las Trampas Range, city lights and Mount Diablo.
Homes within the community represent a broad range of styles and architecture.
Fairway Villas – Located on the golf course, these 2-3 bedroom homes feature 1364-1618 sq ft. of attached townhome living.

Garden Manors – One story, low maintenance, single-family homes ranging from 1650 to 2137 sq ft and come in 3-4 bedroom models.

Country Estates – Situated on larger lots with sizes ranging from 1865 to 2889 sq ft., these single-family detached homes feature 3-car garages and are available on open lots or on the golf course.
Brookside & Glenview
Brookside and Glenview were established between 1960-1980 with homes ranging in size from 1600-3000 square feet. The majority of homes in this community are single-family with up to 4 bedrooms situated on quarter-acre lots. Local school districts include the San Ramon Valley United School District, making this a great community to raise a family. Other features include mature landscaping, bike, and hiking paths, and no HOA fees.
Sycamore Area
The Sycamore community ranks among one of the more well-established neighborhoods in Danville and is an attractive option or those looking to buy a home. The unique backdrop of the community and facilities on site have been featured in television commercials, weddings, and even a Hollywood production.
Nestled among the Mt. Diablo foothills, Sycamore Area is within walking or biking distance from downtown Danville by way of the Iron Horse Trail. Making the neighborhood perfect for enjoying the quiet of suburban living while having the amenities of the city at your fingertips.
Families will appreciate the area's highly rated education system, family-oriented neighborhood, and low crime rates.
The area's homes are sprinkled over 250 acres comprised of 650+ custom single-family homes. Hallmarks of the community include state of the art playgrounds, athletic and social activities, paved walking paths, and mature tree-lined grounds. Homes generally sell between $340,000-$1.6 million on quarter-acre lots.
Residents will enjoy exquisitely maintained parks, private recreational clubhouses and facilities, volleyball and tennis courts, swimming pools and more. The housing is managed by an HOA controlled by a volunteer board of directors.
Anderson Ranch
Built by Castle Construction between 1987-1989, Anderson Ranch is known for competitively priced large and luxurious homes. The community is situated among the hills of Danville just off of Tassajara road.
The well-established community features a range of 4-5 bedroom single-family home styles costing on average $410,000 to $1.3 million on quarter-acre lots. Most lot spaces include side yard access and an attached garage. The community is managed by an HOA that maintains the common area. Homeowner amenities include a pool and clubhouse.
Cimarron Hills & Woodranch
Constructed between 1989-1994 by Ponderosa Homes and Davidson Homes, Cimarron Hills is an upscale community nestled in the Tassajara Valley. Homes range in size from 2500-4000 square feet and are situated on a quarter or half-acre lot and a 3-4 car garage with many backing up to open spaces.
The community features a number of amenities such as tennis courts, cabana, playground, pool, and spa. The neighborhood is also in a prime location, located proximally to Tassajara Crossing Shopping centers, Blackhawk Plaza and Sycamore Park. The area is littered with entertainment, dining and retail options just a short drive away.
Hidden Valley
Hidden Valley is an upscale community surrounded by acres of open parkland, sprinkled with around 220 homes positioned among picturesque foothills, aged oak trees, and fields.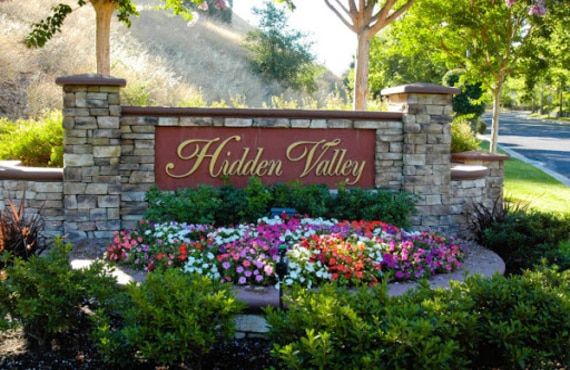 Having been established in 1995-1997, the community offers a unique blend of maturity and newness, with proximity to a great school system and on-site amenities such as a pool, spa, tennis courts, playground, clubhouse and more.
The Best Areas in Danville
Danville area communities are highly sought after for their upscale living, family-friendly communities and access to big city amenities while still maintaining the small-town community feel.